November 22, 2016
2nd Annual Disability Inclusion Opportunity Summit
Posting by: Laura Wilhelm, Director, Chicagoland Business Leadership Network (CBLN)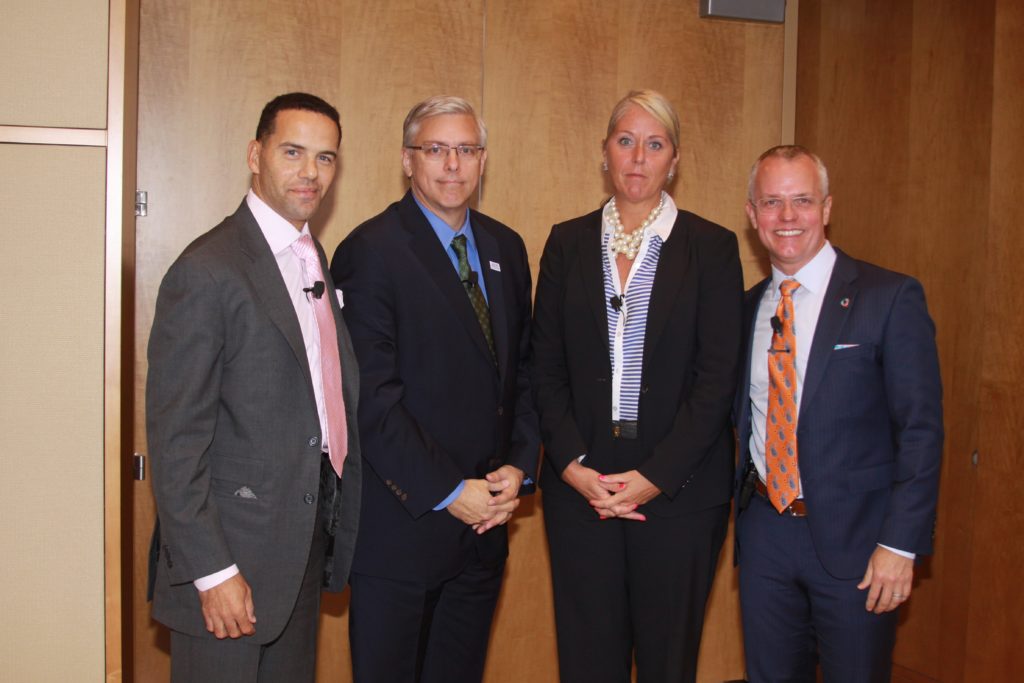 Sweeping skyline views from the BlueCross BlueShield building in downtown Chicago set the stage for the Chicagoland Business Leadership Network's (CBLN) Second Annual Disability Inclusion Opportunity Summit on October 21st, 2016.

This day-long conference designed for employers, human resource, talent acquisition, and diversity and inclusion professionals sold-out, drawing more than 220 participants. Its program included sessions on: disrupting individual bias, sourcing students with disabilities, and facilitating self-identification.

USBLN President and CEO Jill Houghton, and USBLN Board Chair, Steve Pemberton, helped to kick off the day, as panelists in the opening plenary session, 'Navigating Internal Obstacles to C-Suite Buy-in.'

Representatives from companies including BlueCross BlueShield of Illinois, Northern Trust, EY, KPMG, Deloitte, BMO Harris, and Walgreens shared their experiences in breakout workshops and panel presentations.

Health Care Service Corporation (HCSC), BlueCross BlueShield of Illinois' parent company, presented information on their self-identification campaign launched this year that encourages disclosure through a new online tool. HCSC reported that the two-week campaign increased employee self-identification by more than 110%.

BMO Harris reported on its Count Me In' campaign, which combined online resources with town hall meetings to encourage disclosure by reinforcing that BMO values diversity and supports its workers with disabilities.

Other CBLN partners EY, KPMG and Deloitte worked together on panel discussions that described best practices they currently employ to recruit and retain veterans and veterans with disabilities.

In a panel moderated by Jill Houghton, Northern Trust shared its insight and experience in leveraging the Disability Equality Index (DEI) to measure progress on inclusion.

Terry Mazany, President and CEO of The Chicago Community Trust, a generous CBLN supporter, provided a fitting observation during the closing plenary, noting that 'work is love'. Special thanks also go to the Chicagoland Chamber of Commerce Foundation, the CBLN's fiscal agent and BlueCross BlueShield, our venue host.





Working together
It's exciting when programs and people come together for the advancement of disability inclusion. Earlier this year our Rising Leaders program, Greater Houston Business Leadership Network affiliate and the Texas Department of Assistive and Rehabilitation Services (DARS and now named Texas Workforce Commission) collaborated on a very special initiative.

---