May 9, 2017
USBLN Forges New Disability Business Growth Initiative with Local Affiliates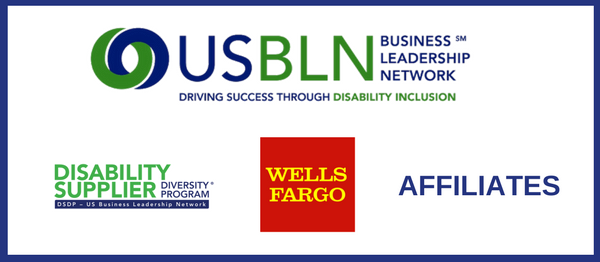 Earlier this year, the US Business Leadership Network (USBLN®) launched the USBLN Affiliate Supplier Diversity Initiative, enlisting affiliates to design and implement proactive strategies to build awareness and increase utilization of disability-owned businesses in local communities. We are excited to announce Wells Fargo, a USBLN Corporate Partner and Founding Partner of the USBLN Disability Supplier DiversityProgram (DSDP®), will provide generous financial support to aid these efforts.
"This new initiative will help propel DSDP to the next level by engaging affiliates at the local level to work with corporations embracing the benefits of disability supplier diversity inclusion and disability-owned businesses ready to be certified by USBLN® and elevate their business in the commercial sector," said Jill Houghton, President and CEO of USBLN®. "We are thankful to Wells Fargo for their ongoing commitment to USBLN and creating economic opportunity for people with disabilities."
Since their inception, USBLN® affiliates have made tremendous progress in advancing disability inclusion in the workplace and marketplace in communities across the country. This innovative initiative will support affiliates by helping them grow supplier diversity programming in their BLN, as well as identify local disability-owned businesses who may be eligible to apply for USBLN certification as a Disability-Owned Business Enterprise (DOBE®) or Service-Disabled Veteran-Owned Business Enterprise (SDV-DOBE™).
USBLN established its Disability Supplier Diversity Program (DSDP®) in 2010 with the mission to certify and develop DOBEs, as well as help corporations develop supplier diversity programs that are fully inclusive of businesses owned by people with disabilities.
"Wells Fargo is proud of its long-time partnership with the USBLN and pleased to support this Initiative. We're committed to creating access and opportunity for members of the disability community," said Regina O. Heyward, Senior Vice President and Head of Supplier Diversity at Wells Fargo. "The affiliates are well-positioned to build awareness and bring together companies and community business organizations in support of disability-owned businesses. When these businesses are given the opportunity, they're contributors to the economic growth and well-being of our local communities."
The grants provided by Wells Fargo will help affiliates and their local communities embrace the idea of self-employment and entrepreneurship as another clear path to economic self-sufficiency for people with disabilities, as well as attract companies who are looking to further diversity their supply chain.
USBLN Affiliates participating in the launch of the initiative are:
Chicagoland BLN
Connecticut BLN
DC Metro BLN
Hawaii BLN
Massachusetts BLN
North Carolina BLN
Ohio BLN
The USBLN looks forward to working with Wells Fargo and all of our corporate partners to create more economic opportunities for people with disabilities and their full inclusion in the workforce, marketplace and supply chain. For more information please contact Patricia Richards, Director, Disability Supplier Diversity Program, USBLN (patricia@usbln.org).





NYC moves towards disability inclusion
Last week, USBLN was proud to join a roundtable discussion with the New York City Comptroller, Scott M. Stringer.

---


New Jersey is Fourth State to Pursue Recognition of Certified Disability-Owned Business Enterprises
USBLN Plays a Key Role in Supplier Diversity. Many New Jersey residents celebrated last month when their State Assembly voted on a bill that will provide business assistance to LGBT, veteran and residents with disabilities.

---


Winner of the 2017 FSMSDC Innovation Competition
Surprise! The winner of the 2017 FSMSDC Innovation Competition is not a Tech company! Umbree Rain Gear, a certified USBLN SDV-DOBE™, is an apparel and accessories manufacturer, most known for their umbrellas, ponchos, and swimwear which are designed to change colors when wet

---


TechTrueUp Update
TechTrueUp, a USBLN certified SDV-DOBE, has released an enhanced version of the Amazon AWS Certification Training Program, designed to help organizations respond to increasing demand for AWS certified technologist and in-turn reduce costs associated with cloud implementations.

---


USBLN Certified DOBE Finalist in Wells Fargo Start Up Accelerator
Advocations, LLC a USBLN certified Disability-Owned Business Enterprise (DOBE) is a finalist in Wells Fargo's Start Up Accelerator! The Wells Fargo Startup Accelerator is a hands-on program designed to advance startups that create solutions for enterprise customers – inside and outside the financial industry. The selected winner is funded up to $500,000, on their business […]

---