USBLN Going for the Gold Project

If you are a USBLN Corporate Partner participating in the Going for the Gold (GFG) program please visit the GFG members only, password protected, resource page at http://www.usbln.org/what-we-do/going-for-the-gold/resources/ for your exclusive access to valuable tools and resources on disability inclusion in the workplace.
Going for Gold connects participating corporate partners with USBLN subject matter experts and unites them around disability inclusion through leading practices and tools.
The project is supported by several USBLN subject matter experts who are recognized leaders in disability inclusion. The GFG team develops customized plans with each company and provides an array of services, including assisting GFG companies to compare their disability inclusion practices with best practices and regulatory requirements using the USBLN's Disability Equality Index (DEI) and Section 503 Self-Evaluation Tool.
The USBLN Going for the Gold Team Gets Results!
The USBLN participating companies have hired over 3,000 individuals with disabilities over the past 3 years. As of September 30, 2017, 10 GFG companies have collectively hired 3,389 individuals with disabilities. This is an increase of 900% since 2014. There were 424 new GFG company hires of individuals with disabilities from the end of Q2 2017 to the end of Q3 2017, and the numbers continue to grow.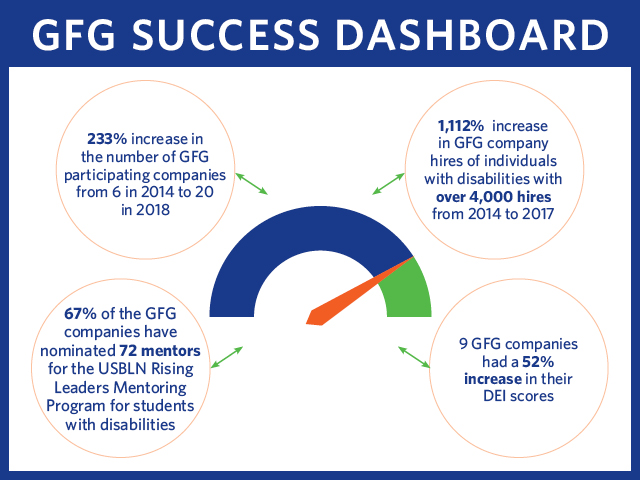 This increase in the hiring of individuals with disabilities is attributed to the GFG companies' commitment to spreading disability inclusion throughout their enterprises and increased outreach and recruitment with the intense assistance of the USBLN GFG subject matter experts.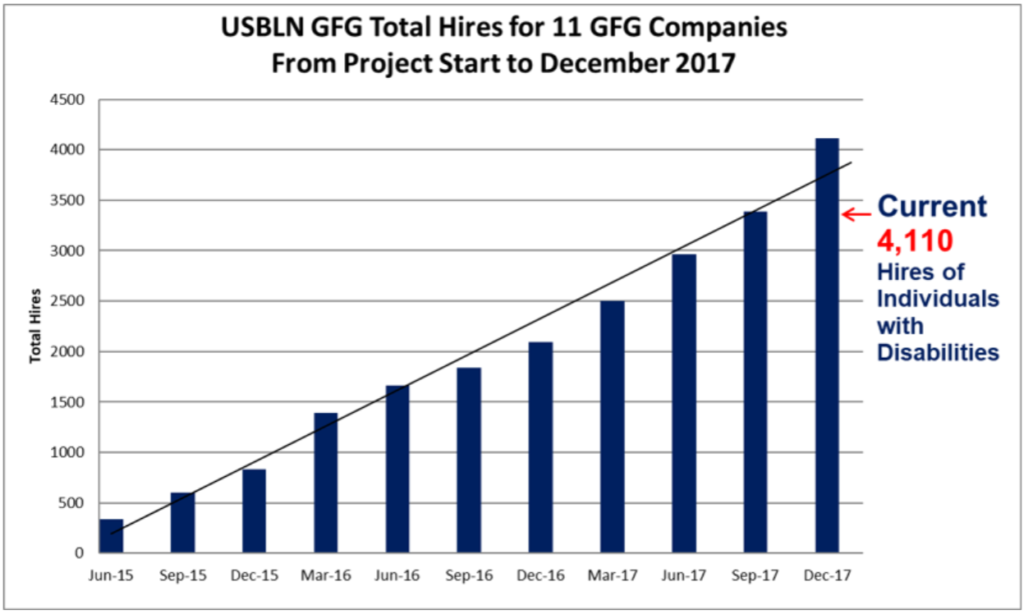 USBLN GFG Program Met Its 3-Year Hiring Goal in Two Years
The USBLN GFG project had a total 3-year hiring goal of 1,140 hires of individuals with disabilities for the first six GFG companies. The goal was met and exceeded in less than 2 years.
GFG Team Facilitates Outreach and Recruitment and the Building of Sourcing Relationships
The GFG team assists GFG companies to establish sourcing relationships with national, state and local organizations serving job seekers with disabilities. The team also works to establish relationships on targeted college campuses with Disability and Career Services' representatives, making it easier for GFG companies to recruit and hire college graduates with disabilities.
Going for the Gold (GFG) is funded through the Poses Family Foundation, the May and Stanley Smith Charitable Trust and corporate match.