September 1, 2016
Disability Matters: Our inaugural blog post
As the USBLN continues to grow, we have added in a blog to our website. The blog is a great way to stay connected to our partners and strategic alliances as well as share information about what is happening with our programs and outreach. As we launch this new communication tool, it is fitting that I share my disability story and what motivates me to continue to partner with many of you to increase disability inclusion throughout the business world.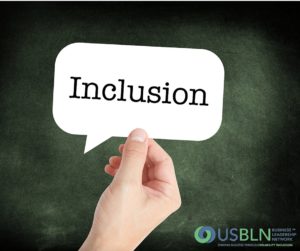 As a child I knew that simple tasks like reading and comprehending a story, doing math and tying my shoes were challenging tasks. Luckily I have loving parents that advocated for assistance and spent countless hours helping me. They held high expectations and worked hard to infuse humor. We've laughed until we've cried about my inability to tie my shoes and perform basic math. Their high expectations and humor have helped me in the workplace to focus on my strengths and overcome the shame that comes with having a learning disability.

Nonetheless, it's been said that, "seeing is believing" and for that reason, along with not wanting to be viewed as less than I am, I've often not shared my non-apparent disability in the workplace. The fact that colleagues can't see my disability may leave them wondering, "Does she really have a disability? How can she perform her job? Is it significant enough to even be a disability?" Whereas someone like my husband who has a spinal cord injury and uses a wheelchair is a disability billboard. He can't hide his disability like I can.

One of my biggest fears is being in an important meeting and being asked to read something on the spot and provide comment. Since this happens regularly in my work I've perfected the "skim" approach, infused my strong speaking skills, and been able to develop the confidence to hurdle this challenge. I'm also self-conscious while taking notes that a colleague may view my writing.

Thanks to technology my interactions in the workplace and world have become much easier. For example, I can have my computer read a document to me or while shopping I can use my debit card instead of writing a check. For so many years, I was afraid that the store clerk would think I stole the check because I couldn't decide which way the letter in my name should face.

It's been said that "D" is the silent letter in diversity and stands for "Disability." It's silent because disability is something that we've not valued and have been scared to discuss until recently. While disability doesn't define an individual it is a unique attribute. Personally, I like the word disability, and don't feel the need to call it something else. I am proud that it's part of who I am.

Jill

Please comment and share. We would love to hear your stories.





DOBE Spotlight Series: Betta Beasley
Prior to founding 2rbConsulting, Betta Beasley, the company's CEO, led an interesting professional life.

---


DOBE Spotlight Series: Artura Taylor
Artura credits USBLN certification and the USBLN Conference for building the type of relationships that have helped her grow as a business owner and a leader. "After attending the USBLN conference last year, I've been able to secure calls with companies I would never have been placed in front of."

---


USBLN And VIB Network Announce Partnership Agreement to Benefit Veteran Business Owners
The USBLN and the Veterans in Business (VIB) Network are proud and excited to announce a new partnership agreement that will enhance the business opportunities and professional development of veteran-disability owned businesses and service-disability veteran owned businesses.

---


DOBE Spotlight Series: iDisability™
iDisability™ is an enterprise-wide eLearning solution. It was developed in a partnership between Joyce Bender and Andrew Houghton, both USBLN Certified DOBEs, and DOBE Host Committee Members.

---


DOBE Spotlight Series: Mona Lisa Faris
Mona Lisa Faris, the publisher of DiversityComm, originally planned to be a professor of intracultural communication and public speaking when she realized she needed to make an important decision: start a teaching fellowship, or take an entrepreneurial path and begin publishing a newsletter on diversity.

---