January 22, 2018
DOBE Spotlight Series: Pat Graves, Caption First
USBLN highlights various disability-owned business enterprises (DOBEs) through the DOBE Spotlight Series. If you'd like more information about USBLN's Disability Supplier Diversity Program, please contact Cami@usbln.org.

Caption First, a USBLN® Certified DOBE™, has been providing real time captioning services for almost 30 years. The company is dedicated to delivering communication alternatives for people who are deaf, hard of hearing, or have trouble with comprehension and fluency.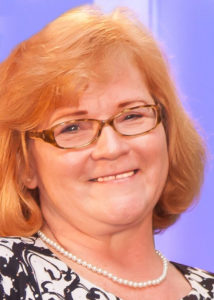 Pat Graves, Caption First's founder, started her career as a freelance court reporter. When she began, stenography was a multi-step process. Pat would type into her stenotype machine, dictate her notes to a typist, and proofread the text before she had her finished product. As with everything, technological advancements changed the course of the profession. Thanks to the progress in the field, Pat was eventually able to connect her stenotype machine to a computer, allowing for the English text to appear instantaneously. Pat saved a lot of time by skipping several of the original steps, and also realized she could do a lot more than court reporting with this new technology.

As the sister of a deaf brother, Pat understood the world sometimes passed him by. She realized with this new technology she could serve deaf people, and people who have a more difficult time communicating in English. Even though Pat was one of the first 50 people across the United States to become computerized, she didn't see herself as anything other than a business owner. "This is when I understood that I could make a difference in people's lives. This is when I considered myself an entrepreneur," said Pat.

In 2007, Pat's life was altered when she lost quite a bit of her vision. While her confidence was shaken, and she had to learn to rely on others, she learned to cope and adjust. She also learned about the benefits of the USBLN. As she says, "USBLN helped me to accept and to understand that I am an entrepreneur, I am a business owner, I am a strong woman, I am a leader…and, oh, I am also a person with a disability."

Becoming certified through the USBLN's Disability Supplier Diversity Program has proven advantageous in the growth and identification of new opportunities for Caption First as a company, and Pat as a business owner and a leader. Through the USBLN and its corporate partners, Pat has twice been the recipient of a Tuck University School of Business scholarship. Pat credits the opportunity and the classes for helping her grow professionally.

Pat has served on and chaired the DOBE Host Committee at the USBLN Conference, and sees this as a "great opportunity to learn and grow as a leader and owner." She expects to attend the conference for years to come. "It is a way to push myself personally and professionally, to come out of my comfort zone, to give back to the organization, and give back to other certified owners. Most importantly, it is a way to meet the decision makers or the gatekeepers for large corporations.  Attending [the conference] is the highlight of my year!"

The USBLN's Disability Supplier Diversity Program was designed to help certified DOBEs advance contract opportunities with corporations as well as government agencies. By having a procurement model based on diversity and inclusion, corporations and DOBEs achieve greater economic self-sufficiency, positive community impact, and strengthen the American economy. For more information about this certification program and others we provide, please contact Cami@usbln.org.





DOBE Spotlight Series: Betta Beasley
Prior to founding 2rbConsulting, Betta Beasley, the company's CEO, led an interesting professional life.

---


DOBE Spotlight Series: Artura Taylor
Artura credits USBLN certification and the USBLN Conference for building the type of relationships that have helped her grow as a business owner and a leader. "After attending the USBLN conference last year, I've been able to secure calls with companies I would never have been placed in front of."

---


USBLN And VIB Network Announce Partnership Agreement to Benefit Veteran Business Owners
The USBLN and the Veterans in Business (VIB) Network are proud and excited to announce a new partnership agreement that will enhance the business opportunities and professional development of veteran-disability owned businesses and service-disability veteran owned businesses.

---


DOBE Spotlight Series: iDisability™
iDisability™ is an enterprise-wide eLearning solution. It was developed in a partnership between Joyce Bender and Andrew Houghton, both USBLN Certified DOBEs, and DOBE Host Committee Members.

---


DOBE Spotlight Series: Mona Lisa Faris
Mona Lisa Faris, the publisher of DiversityComm, originally planned to be a professor of intracultural communication and public speaking when she realized she needed to make an important decision: start a teaching fellowship, or take an entrepreneurial path and begin publishing a newsletter on diversity.

---