August 17, 2017
Maximizing Your Experience at the 2017 USBLN 20th Annual National Conference
People attend conferences for different reasons, mainly because it helps them learn, grow and connect. While the 2017 USBLN 20th Annual National Conference will offer its attendees that and more, conferences are ultimately what you make of them. We understand this, and want to share some tips to ensure you have the most valuable and engaging experience.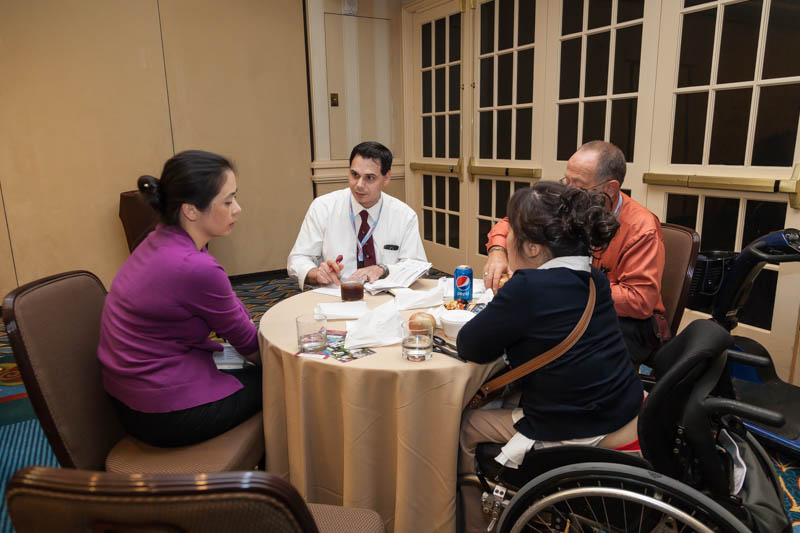 Before the Conference
Consider your goals. Are you attending to gain specific information, connect with certain people, and/or have detailed questions answered?
Review the schedule, and develop a plan. This conference offers a wide variety of breakout sessions, panel discussions, plenary presentations and workshops over multiple tracks. Because some of these presentations will overlap, it's critical that you do your homework before you arrive to attain your attendance goal.
Download the app. Don't know where to start your planning? Put all the 2017 USBLN Conference details in the palm of your hand with the 2017 USBLN Conference mobile phone app. Visit the iPhone and iPads or Androids app store, and search for the app "USBLN 2017 Conference."  When the conference is over, you'll also find presentation materials available here.
Connect on social media.  Start following the hashtag #USBLN17 on social media.   It's a great way to get real time updates, and share experiences. Join in the fun at our first USBLN Digital Lounge!  Bookmark the web address http://usbln.org/news-and-events/digital-lounge/.  In the Digital Lounge, we'll be hosting Twitter chats and Facebook Live events, including an appearance from Nyle DiMarco.  Check out our first Snapchat filter and even get an introduction to our Rising Leaders on Instagram.
During the Conference
Participate. Don't just "attend" the conference; make sure you're physically and mentally there. Introduce yourself. Ask questions. Engage in the sessions you're attending.
Take notes. There's going to be a lot of information – emerging trends, innovative theories, and new opportunities. Jotting down thoughts, ideas and information is the best way to create a research list to review later.
Network. The conference's multiple receptions, mixers and ancillary events are golden opportunities to bounce ideas off of peers and approach experts to get their opinion on specific subject matters. Remember, face-to-face meetings strengthen relationships.
Take care of yourself. Immersing yourself in a conference can be exhausting. Be sure to get enough sleep, eat right, stay hydrated, and take breaks. You don't want to overwhelm yourself by trying to do it all.
After the Conference
Follow-up. Hopefully you'll make a lot of great connections. It's a good idea to touch base with those individuals via email, social media, or even by phone immediately after the conference while it's fresh in your mind.

Apply what you've learned. The true testament of our conference's success is how well the information presented can be applied to everyday situations. Take some time to absorb all the information you learned, and determine what aspects of it you can adopt.

After months of planning, the 2017 USBLN 20th Annual National Conference is just a few days away! We wish you all a safe journey, and look forward to seeing you soon. 





USBLN Statement on International Day of Persons with Disabilities
Written by Jill Houghton, President and CEO of USBLN Today we celebrate the International Day of Persons with Disabilities, that was first proclaimed in 1992 by the United Nations General Assembly. While much has been accomplished, more remains to be done to make the world truly inclusive. This year, the theme is "Transformation towards sustainable […]

---


Champions of Diversity by Diversity Plus Magazine
Each year Diversity Plus Magazine celebrates "Champions of Diversity." These are the people who have driven diversity in corporate supply chains and workforces.

---


USBLN Proudly Sponsors A Breakthrough Report On Disabilities And Inclusion From The Center for Talent Innovation
As many as 30% of full-time, college-educated professionals in the U.S. have a disability. That's the finding from a first-of-its-kind study published today by the Center for Talent Innovation (CTI), and sponsored by the USBLN.

---


IBM Wins Employer of the Year for People with Disabilities
IBM is the most recent recipient of the USBLN's Employer of the Year Award for its continued dedication to inclusion in the workplace. In a letter to its employees, Chief Diversity Officer shares the news, and reiterates the company's commitment to disability inclusiveness policies, strategies and initiatives.

---


DXC Technology, EY, Ford Motor Company, JP Morgan Chase & Co., Microsoft, and SAP launch the "Autism @ Work Employer Roundtable"
These cross-industry employers have led hiring initiatives specific to individuals on the Autism Spectrum for over a year, and recognize the significant benefits to their company cultures as well as those experienced by individuals hired at these companies.

---