July 19, 2017
NYC moves towards disability inclusion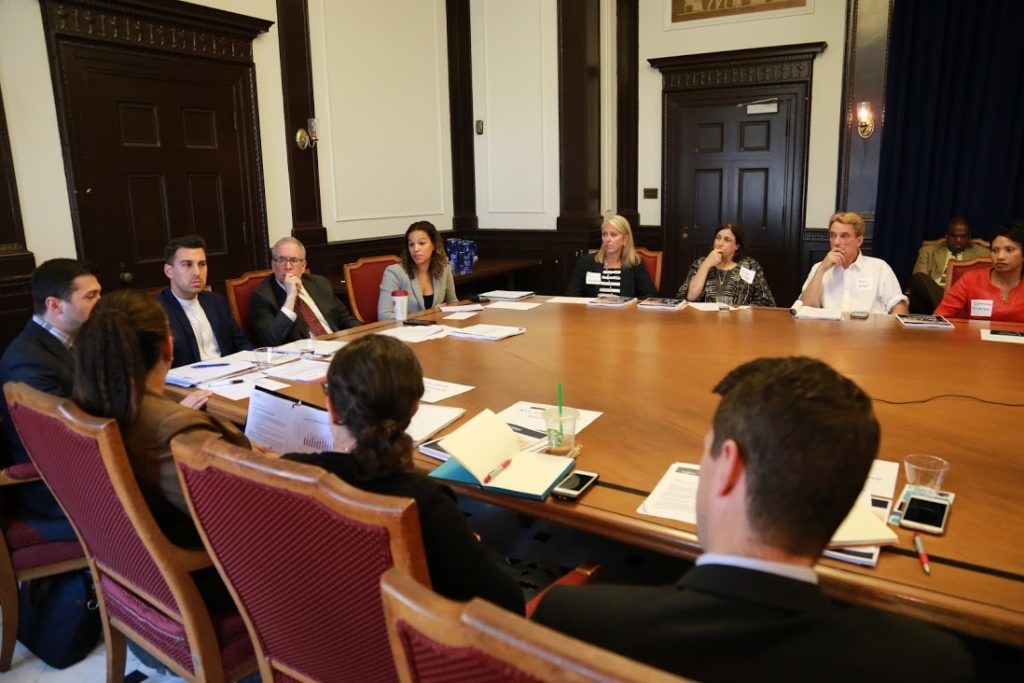 Last week, USBLN was proud to join a roundtable discussion with the New York City Comptroller, Scott M. Stringer.

The roundtable discussion was focused on ways the City can expand resources to Emerging Business Enterprises (businesses that are owned or operated by individuals who have been socially or economically disadvantaged). The Comptroller is interested in starting a conversation on how the City can work closer with and recognize disability-owned businesses (DOBEs), service-disabled veteran businesses (SDV-DOBEs), as well as LGBTBEs, certified by our allies at the National Gay and Lesbian Chamber of Commerce (NGLCC).

Several USBLN certified DOBEs and SDV-DOBEs as part of USBLN's Disability Supplier Diversity Program were at the event and spoke about the importance of creating economic opportunities for people with disabilities and how doing business with the City would help to grow their businesses. In attendance were USBLN certified businesses: CityMouse, Precision Group LLC, Our Ability, R.Baker & Son, and Base One Technologies.

The Comptroller was eager to hear about the challenges that DOBEs, SDV-DOBEs, and LGBTBEs face when doing business with the City and how his office can work to lessen those challenges. He is also interested in seeing how the City can recognize the USBLN and NGLCC certifications, to allow all our certified businesses to have greater opportunity and access to contracts with the City.

This was the first in a series of conversations that will occur in order to expand recognition of our certifications. We look forward to working with New York City and other states and municipalities to create more economic opportunities for business owners with disabilities.





Information Guide for Service-Disabled Veteran and Veteran Disability-Owned Businesses
There are approximately 57 million people with disabilities in the U.S., and they're nearly twice as likely to be self-employed. With initiatives like the USBLN's Disability Supplier Diversity Program (DSDP), they also have the ability to achieve greater economic success and independence.

---


DOBE Spotlight Series: Matt Hempel
Agilitech Solutions LLC, a USBLN® Certified SDV-DOBE™ and VA Verified Service Disabled Veteran Owned Small Business, was formed to address the critical issues of web accessibility for the disabled community. It provides automated web accessibility solutions that work with a single line of code.

---


The Public Relations Society of America Recognizes O'Brien Communications
The October Disability-Owned Business Enterprise (DOBE) Spotlight is on O'Brien Communications. Founded by Tim O'Brien in 2001, this PR firm was recently ranked as one of the top 14 PR firms in Pittsburgh. O'Brien Communications is the 2017 recipient of the Public Relations Society of America "Indie Award."

---


The Resource Network: A USBLN Certified DOBE® Making the Right Connections
The Resource Network (http://www.resnet.org/), a USBLN Certified DOBE® helps to connect resources within and between organizations to catalyze a multiplier effect that optimizes the bottom line.  Their services include Access and Information Integration; Business and Contact Intelligence; Partner Programs as well as Collaboration & Customer Relationship Management.

---


"Billion Dollar Roundtable" Now Includes LGBT, Disability, and Veteran-Owned Businesses in Corporate Supply Chains
Washington, DC – The National Gay & Lesbian Chamber of Commerce (NGLCC), the business voice of the LGBT community, and the USBLN (US Business Leadership Network), the disability inclusion business resource, are pleased to share that The Billion Dollar Roundtable voted to expand their criteria of diverse businesses counted toward a corporation's billion dollar supply chain spend on diverse-owned businesses to include: certified LGBT Business Enterprises (LGBTBEs), Disability-Owned Business Enterprises (DOBEs®), Service-Disabled Veteran Disability-Owned Business Enterprises (SDV-DOBE™) and Veteran-Disability Owned Business Enterprises (V-DOBEs™).

---