August 10, 2017
USBLN Partner Spotlight: Boeing and their commitment towards disability inclusion
Digital Accessibility and the World Wide Web
USBLN highlights corporate partners that are leading the path towards disability inclusion in the USBLN Partner Spotlight Series. If you are a corporate partner (or potential partner), and would like more information on USBLN and our various programs, please contact Liz (liz@usbln.org).  
 For this post, USBLN is excited to highlight Boeing, and the efforts of Steve Repsher, Aerodynamics Engineer for Vertical Lift, The Boeing Company. This post was written by Steve to highlight efforts regarding digital accessibility and the world wide web.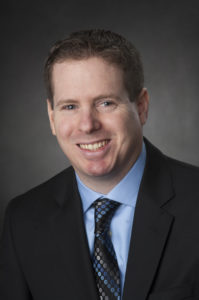 I have been an aerodynamics engineer with The Boeing Company for over 13 years. My specialty is computational fluid dynamics, which boils down to using big computers to predict the aerodynamic characteristics of designs to solve problems and drive efficiency. 

As a person with a visual impairment and an all-around geek, I have also cultivated a strong passion for web and software accessibility for people with all types of disabilities. Skills I have learned on the job or through other learning resources at Boeing, such as programming, data analysis, and advanced computing, have always served to enhance that passion, for example, by being able to diagnose compatibility issues with assistive technology. 

When I decided to become more active in disability inclusion efforts, it was not difficult to find opportunities at Boeing.  I began networking within the Boeing Employees Ability Awareness Association (BEAAA), and became a member of my work location's Diversity Council. I also helped to lead an internal, grassroots Community of Practice on accessibility. 

A couple years ago, a now-retired colleague and fellow accessibility enthusiast suggested I utilize Boeing's membership in the World Wide Web Consortium (W3C). This is the organization that develops open standards for the Web. 

I jumped at the chance and formally joined the Accessibility Guidelines Working Group. In this role, I collaborate with a global and diverse team of experts from the public and many other companies. We are currently drafting updates to the Web Content Accessibility Guidelines (WCAG).  The current version of this document is widely recognized as a premier standard, and has been cited by disability laws and regulations in many countries. 

As a result of this opportunity and Boeing's engagement with USBLN, I'm also fortunate to have the opportunity to share my knowledge as a panelist at the 2017 USBLN conference in Orlando, in a session on "How Regulations are Driving Digital Accessibility." You can check out the panel on Tuesday, August 22, from 1:30 pm to 2:45 pm. 

I'm looking forward to this opportunity to raise awareness and share knowledge with the panelists and the audience as we strive for continuous improvement in accessibility. Hope to see you there. 





Employee Resource Group Spotlight Series: Alfredo Corona
Through ABILITY members like Alfredo Corona, a senior service level analyst for McKesson U.S. Pharmaceutical, McKesson plans to empower its members and foster awareness about its efforts in diversity and inclusion.

---


USBLN and Marriott International Hosted Innovative Session for Travelers with Disabilities
In its second edition, Marriott and USBLN hosted an innovation session for travelers with disabilities to discuss inclusive design in the hospitality industry.

---


IBM Wins Employer of the Year for People with Disabilities
IBM is the most recent recipient of the USBLN's Employer of the Year Award for its continued dedication to inclusion in the workplace. In a letter to its employees, Chief Diversity Officer shares the news, and reiterates the company's commitment to disability inclusiveness policies, strategies and initiatives.

---


DXC Technology, EY, Ford Motor Company, JP Morgan Chase & Co., Microsoft, and SAP launch the "Autism @ Work Employer Roundtable"
These cross-industry employers have led hiring initiatives specific to individuals on the Autism Spectrum for over a year, and recognize the significant benefits to their company cultures as well as those experienced by individuals hired at these companies.

---


A Global Untapped Talent Pool: Employees with Disabilities 
CTI's report "Disabilities and Inclusion" has uncovered that employees with disabilities make up an enormous global talent pool that employers overlook far too often -- to their own detriment.

---