August 4, 2017
"Inclusive to people who are often forgotten about"
USBLN Corporate Partner, Voya Financial, recently invited a group of students participating in the Rising Leaders Mentoring Program to job shadow its CEO, Rodney Martin.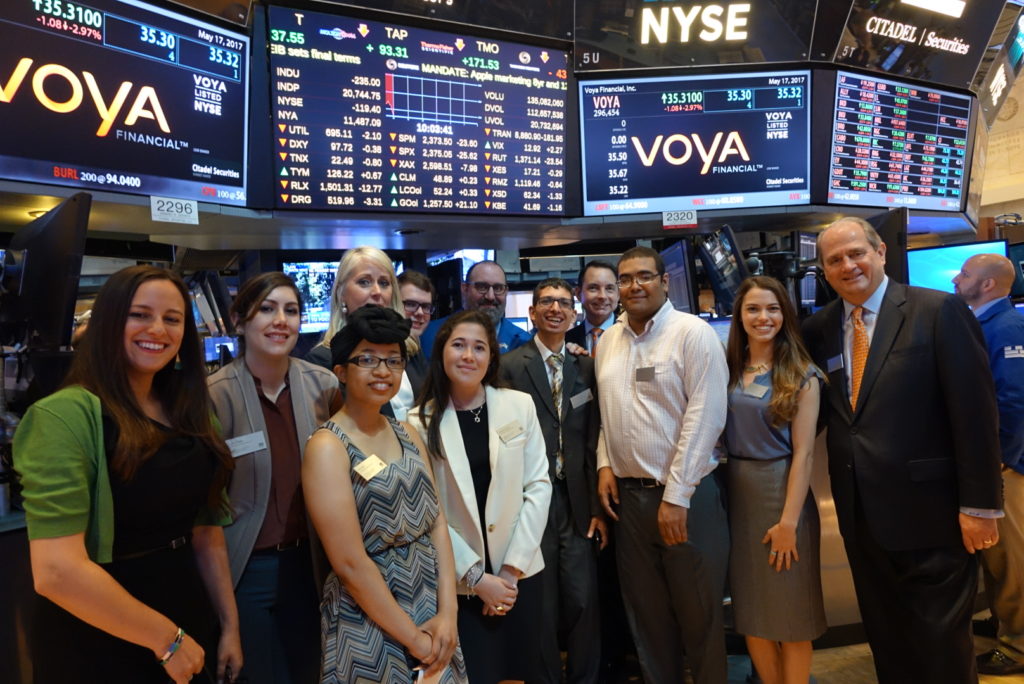 Through Rodney Martin's leadership, Voya Financial is passionate about mentoring opportunities for college students and recent graduates with disabilities. Voya's day of service and the job shadowing opportunity was a natural fit. Students were able to follow Rodney through a typical workday, including attending meetings with other company executives, engaging colleagues regarding company initiatives, and joining him to ring the opening bell at the New York Stock Exchange.  

More information about the USBLN Rising Leaders Mentoring Program and Voya Financial's commitment to people with disabilities can be found on the USBLN Rising Leaders Mentoring Program webpage, and Voya's Supporting People with Disabilities webpage.

Watch and hear the video recap of USBLN Rising Leaders job shadow day with Voya Financial CEO: https://vimeo.com/222710170





Employee Resource Group Spotlight Series: Alfredo Corona
Through ABILITY members like Alfredo Corona, a senior service level analyst for McKesson U.S. Pharmaceutical, McKesson plans to empower its members and foster awareness about its efforts in diversity and inclusion.

---


USBLN and Marriott International Hosted Innovative Session for Travelers with Disabilities
In its second edition, Marriott and USBLN hosted an innovation session for travelers with disabilities to discuss inclusive design in the hospitality industry.

---


IBM Wins Employer of the Year for People with Disabilities
IBM is the most recent recipient of the USBLN's Employer of the Year Award for its continued dedication to inclusion in the workplace. In a letter to its employees, Chief Diversity Officer shares the news, and reiterates the company's commitment to disability inclusiveness policies, strategies and initiatives.

---


DXC Technology, EY, Ford Motor Company, JP Morgan Chase & Co., Microsoft, and SAP launch the "Autism @ Work Employer Roundtable"
These cross-industry employers have led hiring initiatives specific to individuals on the Autism Spectrum for over a year, and recognize the significant benefits to their company cultures as well as those experienced by individuals hired at these companies.

---


A Global Untapped Talent Pool: Employees with Disabilities 
CTI's report "Disabilities and Inclusion" has uncovered that employees with disabilities make up an enormous global talent pool that employers overlook far too often -- to their own detriment.

---