October 9, 2017
"Don't be deterred by low expectations"
USBLN highlights various young leaders with disabilities in the Rising Leader Spotlight Series.

The featured student in this story was involved in the U.S. Department of Labor's Office of Disability Employment Policy (ODEP)'s Workforce Recruitment Program (WRP). USBLN, through an alliance with ODEP, sources over 50% of the students for the Rising Leaders Initiative from ODEP's WRP.

If you are a corporate partner (or potential partner), and would like more information our USBLN's Rising Leaders, please contact Liz (liz@usbln.org). If you are a young leader with a disability, and would like more information on the Rising Leadership Mentoring Program or the Rising Leadership Academy, please contact Keri (keri@usbln.org).
WRP & RPMP Create a Path to a Dream First Job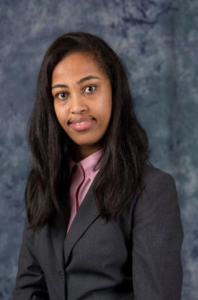 In 2016, Afomeya Mekonnen was in her last year at Gallaudet University as a biology major and a certified pharmacy technician with a dream to become a pharmacist. As a person who is deaf, Afomeya communicates well using ASL interpreters and oral methods. But during several college internships, she encountered supervisors and co-workers who discouraged her from becoming a pharmacist since they could not believe that she would be able to communicate effectively with customers.

When Afomeya decided to interview for the Workforce Recruitment Program (WRP), multiple doors started to open. She was recruited for the USBLN Rising Leaders Mentoring Program (RLMP) through which she was matched with a mentor from a major pharmaceutical company. Through weekly Skype meetings with her mentor, Afomeya refined her resume, practiced job interviewing skills, learned how to productively do online job searches and planned the best path to reach her ultimate goal of becoming a pharmacist.  But most of all, she received encouragement and confidence.

Through the WRP program, Afomeya received an interview with the Environmental Protection Agency (EPA). The interview went well and the interviewer provided excellent information on career building.

EPA offered a summer internship offer, but as she was graduating in May she decided to apply for the USBLN Rising Leadership Academy (RLA). It was at the RLA that Afomeya was interviewed by representatives from CVS Health and offered a Pharmacy Tech position in Washington, D.C.  In October 2016, Afomeya at the age of 24 started her first job.

Afomeya states that she loves her job, is passionate about her work and loves her customers. She successfully performs all the Pharm Tech job functions including those for drop off, production and pick-up.  Her co-workers are naturally supportive of each other and understand and appreciate her communication methods. They simply speak a little more slowly.

She is continuing her journey toward her ultimate career goal – becoming a pharmacist. She applied to pharmacy schools and was accepted to one in California. But she decided that she was not ready to move that far away from her family in the DC area, and is looking at pursuing a Master's degree in Pharmacy and Toxicology while continuing to work at CVS Health.

Afomeya would like to share her journey with other young people with disabilities. She urges them to apply for programs and jobs that they want and not to be deterred by other people's low expectations or unconscious biases.  Her advice to employers is to approach job applicants with disabilities as all the employers at the Rising Leadership Academy, including CVS Health, did – they saw beyond stigma and focused on talent and not on disability.

According to David Casey, Vice President of Diversity "CVS Health is committed to creating and sustaining a fully inclusive workplace culture that minimizes the "dis" in disability by educating, equipping and empowering our colleagues with information and resources. Afomeya Mekonnen was given an employment opportunity with CVS Health and with her hard work and determination she soared."





Rising Leaders Spotlight Series: Bryan Stromer
While Bryan believes most major companies recognize the importance of diversity in the workplace, he feels actively investing in programs such as the Rising Leader Academy underscores the commitment to diversity and inclusion.

---


Rising Leaders Spotlight Series: Paul Trevino
The Rising Leaders Mentoring Program connects students like Paul Trevino to experts that can provide professional growth and development, and social and economic opportunities.

---


Rising Leaders Spotlight Series: Hannah Chadwick
Hannah recently accepted a position as Program Coordinator for the USBLN, where she gets to work on a number of projects. As a Rising Leader alum, Hannah's assistance with the Rising Leaders Initiatives will be invaluable.

---


"Our company was able to connect with high potential talent like Ally"
Ally's story is a true win-win, both for her and BAE Systems. She is engaged in company activities, such as BAE Systems' disability employee resource group, which enhance the company's opportunities to attract top talent who also happen to have disabilities. 

---


"Any employer would value a combat war veteran"
LeAndre Yarrell is a retired United States Army Sargent who served in Afghanistan. LeAndre's career plan is based on setting goals for himself, and acquiring the professional skills, experience, and accomplishments that will lead him to the C-Suite level.

---