March 28, 2018
Rising Leaders Spotlight Series: Hannah Chadwick
USBLN highlights various young leaders with disabilities in the Rising Leader Spotlight Series. If you are a corporate partner (or potential partner), and would like more information our USBLN's Rising Leaders, please contact Liz (liz@usbln.org). If you are a young leader with a disability, and would like more information on the Rising Leadership Mentoring Program or the Rising Leadership Academy, please contact Keri (keri@usbln.org).
The number of students with disabilities attending higher education in the United States now represents 6% of the student body. As with any graduate, their professional success will stem from a number of things, including work ethic, opportunity, and, for some, having a mentor to guide them.
Quality mentoring relationships have a powerful effect on young people in a variety of situations – personally, academically and professionally. Initiatives like the USBLN Rising Leaders Mentoring Program were created to further those opportunities. This six-month career mentoring strategy brings together employers with college students with disabilities and recent graduates with disabilities in a mutually beneficial way. Through the USBLN's association with over 130 corporate partners, we match at least 70 individuals to business professionals in their field of study, area of interest, and to whom they would not otherwise have access. The Rising Leaders Mentoring Program connects students like Hannah Chadwick to experts that can provide professional growth and development, and social and economic opportunities.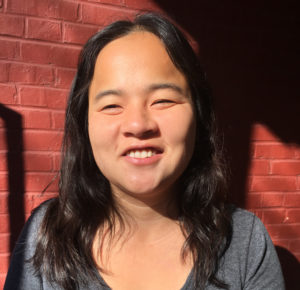 Hannah Chadwick graduated from the University of California Davis in 2016, with a double major in International Relations and Mandarin Chinese. After graduation, though, Hannah found she wasn't sure a position in the International Relations field was exactly what she wanted and worked with several companies to find a good fit.

A turning point came when she secured a summer internship with US International Council on Disabilities, in collaboration with World Learning. During this internship, Hannah had the opportunity to meet many global professionals who worked in various fields associated with human rights, including disability equality and inclusion. After being exposed to multiple movements and realizing the depth of issues that plague our world, Hannah was determined to continue to work in the advocacy field. While at World Learning, she learned about Hidden Army, a social media disability community group. Little did she know, Hidden Army would lead her to the US Business Leadership Network.

Early in 2017, Hannah was browsing through Facebook, and came across a social media post in the Hidden Army group that piqued her interest. It was about the Rising Leadership Academy. She liked the idea of a program dedicated towards diversity and inclusion and thought it would be a wonderful opportunity to connect with mentors who might help point her in the right direction. Hannah attended the 2017 USBLN Annual Conference, and was excited to find so many programs, opportunities and companies specifically geared toward helping people with disabilities find their career path. Hannah eagerly took advantage of all the information presented and connected with several members from USBLN.

After gaining a deeper level of exposure to the diversity and inclusion field, Hannah knew she'd found something she felt passionate about, and realized it was where she wished to focus her energy. USBLN was instrumental in helping Hannah figure out her career path, connecting her with the right people who were interested in actively seeking to incorporate diversity and inclusion into their companies, and ultimately landing her a job doing what she wanted to do.

Hannah recently accepted a position as Program Coordinator for the USBLN, where she gets to work on a number of projects. As a Rising Leader alum, Hannah's assistance with the Rising Leaders Initiatives will be invaluable. And her expertise in international relations will greatly benefit the growing Global Disability Supplier Diversity Program. Hannah loves working with a group of people dedicated to promoting disability rights, and creating an environment that promotes diversity and inclusion in the workplace. She's looking forward to learning from their unique experiences, and eventually managing larger projects.

The USBLN Rising Leaders Mentoring Program is designed to support students and recent graduates as they navigate the professional world, and answer unique questions that relate to being a person with a disability in the workforce. Visit usbln.org for more information about Rising Leaders Mentoring Program, and the Rising Leaders Academy at the 2018 USBLN Conference.





Rising Leaders Spotlight Series: Bryan Stromer
While Bryan believes most major companies recognize the importance of diversity in the workplace, he feels actively investing in programs such as the Rising Leader Academy underscores the commitment to diversity and inclusion.

---


Rising Leaders Spotlight Series: Paul Trevino
The Rising Leaders Mentoring Program connects students like Paul Trevino to experts that can provide professional growth and development, and social and economic opportunities.

---


"Our company was able to connect with high potential talent like Ally"
Ally's story is a true win-win, both for her and BAE Systems. She is engaged in company activities, such as BAE Systems' disability employee resource group, which enhance the company's opportunities to attract top talent who also happen to have disabilities. 

---


"Any employer would value a combat war veteran"
LeAndre Yarrell is a retired United States Army Sargent who served in Afghanistan. LeAndre's career plan is based on setting goals for himself, and acquiring the professional skills, experience, and accomplishments that will lead him to the C-Suite level.

---


"Disability helps me with problem-solving strategies"
Ray Parker believes the USBLN and the Rising Leadership Academy were invaluable assets for him as a student with a disability transitioning into a working professional.

---