November 29, 2017
"Disability helps me with problem-solving strategies"
USBLN highlights various young leaders with disabilities in its Rising Leader Spotlight Series. If you are a corporate partner (or potential partner), and would like more information on USBLN's Rising Leaders, please contact Liz (liz@usbln.org). If you are a young leader with a disability, and would like more information on the Rising Leadership Mentoring Program or the Rising Leadership Academy, please contact Keri (keri@usbln.org).
The number of students with disabilities attending higher education in the United States now represents 6% of the student body. As with any graduate, their professional success will stem from a number of things, including work ethic, opportunity, and, for some, having a mentor to guide them.
Quality mentoring relationships have a powerful effect on young people in a variety of situations – personal, academically and professional. Initiatives like the USBLN Rising Leaders Mentoring Program were created to further those opportunities. This six-month career mentoring strategy brings together employers and college students with disabilities or recent graduates with disabilities in a mutually beneficial way. Through the USBLN's association with over 130 corporate partners, we match at least 70 individuals to business professionals that they wouldn't otherwise have had the chance to meet. The Rising Leaders Mentoring Program connects students like Ray Parker to experts that provide professional growth and development, and social and economic opportunities.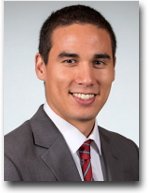 Ray Parker believes the USBLN and the Rising Leadership Academy were invaluable assets for him as a student with a disability transitioning into a working professional. At his first National Conference in 2015, Ray had the opportunity to meet other students with disabilities, and employers who care about diversity and inclusion. Those meetings helped him to identify with the disability community.

From an early age, Ray has always known his disability helped him with problem-solving strategies. In fact, his methodologies were so well ingrained in his personality that he always considered them an asset. However, it wasn't until he attended the USBLN conference that he truly saw the untapped potential of individuals with disabilities that he had always recognized in himself.

Ray credits the Rising Leadership Academy for the opportunity to network with "a lot of fantastic individuals who really care about diversity and inclusion, as well as the ability to form relationships with other individuals with disabilities who may have experienced similar challenges that I have faced."

The USBLN and the Rising Leadership Academy provided Ray the chance to land internships. He had the opportunity to intern for several different corporations, in a variety of different industries, and different initiatives. Ray also received employment offers from various well-respected companies. All of which, he feels, "has definitely been a challenge in the current recruitment world."

Ray recently accepted a position as Data & Artificial Intelligence Consultant for Microsoft, and is pleased to be a part of a company that's so committed to equality and inclusion. In fact, Ray noticed the company's efforts from his very first day on the job. Diversity and disability inclusion were integrated into videos, presentations and reading materials for all new hires to see, and employee training had representation of various individuals with disabilities. Microsoft's pledge to use technology to help everyone achieve more, even people with disabilities, has created a sense of comfort for Ray.

Microsoft has fostered a community of individuals with disabilities, which recently allowed Ray to meet a fellow employee whose son was born with the same disability as him. "This was one of the first times I was able to possibly help someone who would grow up with the same challenges I faced. While we talked, he told me about all the resources and programs available, which didn't exist when I was growing up. It made me happy, and a little teary-eyed. I like to think the world is becoming a better place!"

The USBLN Rising Leaders Mentoring Program is designed to support students and recent graduates as they navigate the professional world, and answer unique questions that relate to being a person with a disability in the workforce. Applications for the 2018 Rising Leadership Academy and the 2018 Rising Leaders Mentoring Program are now open! The USBLN especially encourages STEM majors, veterans, students of color, and LGBTQ+ students to apply. The upcoming 2018 Leadership Academy will take place in Las Vegas, from July 7 – July 12. If you are interested in participating, please fill out the information form.





Rising Leaders Spotlight Series: Bryan Stromer
While Bryan believes most major companies recognize the importance of diversity in the workplace, he feels actively investing in programs such as the Rising Leader Academy underscores the commitment to diversity and inclusion.

---


Rising Leaders Spotlight Series: Paul Trevino
The Rising Leaders Mentoring Program connects students like Paul Trevino to experts that can provide professional growth and development, and social and economic opportunities.

---


Rising Leaders Spotlight Series: Hannah Chadwick
Hannah recently accepted a position as Program Coordinator for the USBLN, where she gets to work on a number of projects. As a Rising Leader alum, Hannah's assistance with the Rising Leaders Initiatives will be invaluable.

---


"Our company was able to connect with high potential talent like Ally"
Ally's story is a true win-win, both for her and BAE Systems. She is engaged in company activities, such as BAE Systems' disability employee resource group, which enhance the company's opportunities to attract top talent who also happen to have disabilities. 

---


"Any employer would value a combat war veteran"
LeAndre Yarrell is a retired United States Army Sargent who served in Afghanistan. LeAndre's career plan is based on setting goals for himself, and acquiring the professional skills, experience, and accomplishments that will lead him to the C-Suite level.

---