September 5, 2017
"I believe this program hit a grand slam"
USBLN highlights various young leaders with disabilities in the Rising Leader Spotlight Series. If you are a corporate partner (or potential partner), and would like more information our USBLN's Rising Leaders, please contact Liz (liz@usbln.org). If you are a young leader with a disability, and would like more information on the Rising Leadership Mentoring Program or the Rising Leadership Academy, please contact Keri (keri@usbln.org).  
The number of students with disabilities attending higher education in the United States now represents 6% of the student body. As with any graduate, their professional success will stem from a number of things, including work ethic, opportunity, and, for some, having a mentor to guide them.   
Quality mentoring relationships have a powerful effect on young people in a variety of situations – personal, academically and professional. Initiatives like the USBLN Rising Leaders Mentoring Program were created to further those opportunities. This six-month career mentoring strategy brings together employers with college students with disabilities and recent graduates with disabilities in a mutually beneficial way. Through the USBLN's association with over 130 corporate partners, we match at least 70 individuals to business professionals in their field of study, area of interest, and whom they would not otherwise have access to. The Rising Leaders Mentoring Program connects students like Russell Goodacre to experts that can provide professional growth and development, and social and economic opportunities. 
Russell's ultimate goal has always been a career in sports. Since meeting his mentor, Russell has also grown to love the production aspects of the business. Amy Bennett works for Disney as a recruiter for ESPN.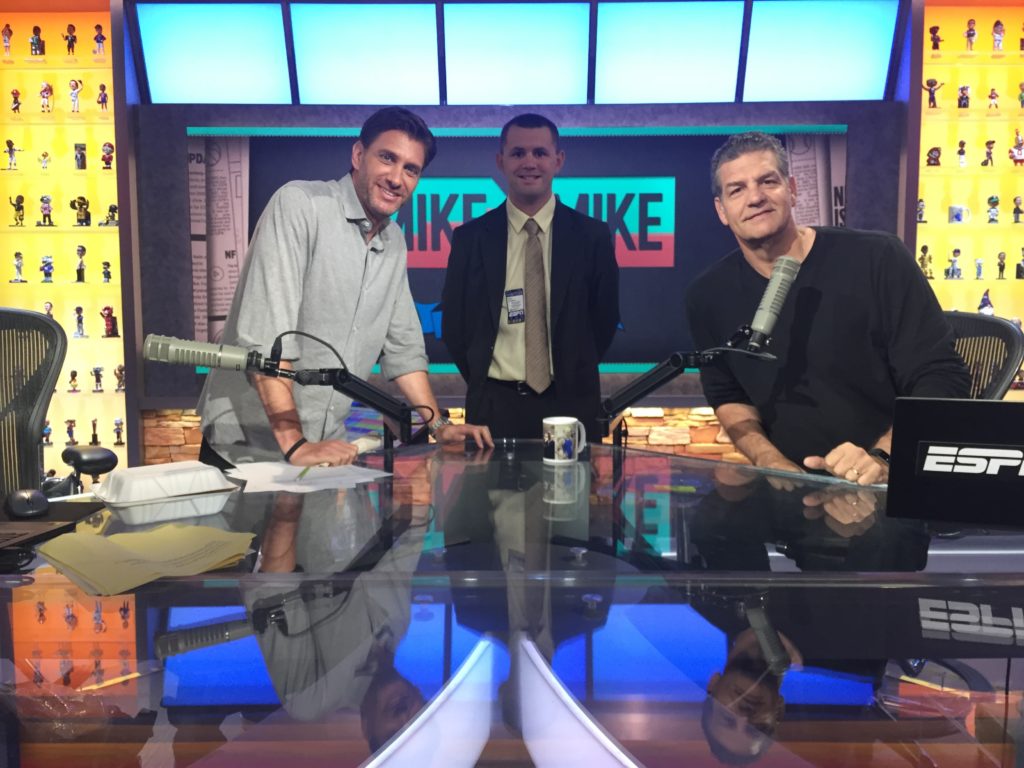 Russell recently toured the ESPN studios, and gained valuable insight on the company, its culture and employees. Russell received a close-up look at several studios and sets, and got to experience the production side of one of ESPN's signature radio shows. He was able to sit in the control room of Mike and Mike. Russell co-hosts his own radio show at Shepherd University, and knows it takes a lot of hard work to produce a successful sports show.  

While Russell enjoyed being privy to how the hosts prepare for segments during commercial breaks, his time on the set was not his most memorable. He left ESPN with a great appreciation for the way the staff treated him and each other. Russell was very impressed with each employee's "team effort" approach to his or her job, just like in sports.  

Through his connection with Amy, Russell has gained useful information  about working in the sports industry. "This mentorship program has 
helped me realize all I need to do to reach my goals is find the right people who are willing and able to help me succeed," he said, and added, "I believe this program hit a grand slam in partnering 
me up with Ms. Amy Bennett." 

After being mentored by Amy, Russell is enthusiastic about the prospect of getting his foot in the door in sports, and making it his lifelong career. 

The USBLN Rising Leaders Mentoring Program is designed to support students and recent graduates as they navigate the professional world, and answer unique questions that relate to being a person with a disability in the workforce. The USBLN will be accepting mentee applications for the 2018 Rising Leaders Mentoring Program starting October 18th. Visit USBLN.org for more information about the Rising Leaders Mentoring Program and to submit an application.   





Rising Leaders Spotlight Series: Bryan Stromer
While Bryan believes most major companies recognize the importance of diversity in the workplace, he feels actively investing in programs such as the Rising Leader Academy underscores the commitment to diversity and inclusion.

---


Rising Leaders Spotlight Series: Paul Trevino
The Rising Leaders Mentoring Program connects students like Paul Trevino to experts that can provide professional growth and development, and social and economic opportunities.

---


Rising Leaders Spotlight Series: Hannah Chadwick
Hannah recently accepted a position as Program Coordinator for the USBLN, where she gets to work on a number of projects. As a Rising Leader alum, Hannah's assistance with the Rising Leaders Initiatives will be invaluable.

---


"Our company was able to connect with high potential talent like Ally"
Ally's story is a true win-win, both for her and BAE Systems. She is engaged in company activities, such as BAE Systems' disability employee resource group, which enhance the company's opportunities to attract top talent who also happen to have disabilities. 

---


"Any employer would value a combat war veteran"
LeAndre Yarrell is a retired United States Army Sargent who served in Afghanistan. LeAndre's career plan is based on setting goals for himself, and acquiring the professional skills, experience, and accomplishments that will lead him to the C-Suite level.

---