September 18, 2017
Three new BLNs Added to the USBLN Affiliate Network since July 2017
This summer has seen landmark growth in the USBLN local Affiliate Network that spans the nation in 43 sites over 30 states! In July the USBLN added the Mid-Missouri BLN (MMBLN) which is located in the Greater Columbia, MO area spear-headed by a local business, MoreSource-Inc. in partnership with the Missouri Developmental Disabilities Council.  For more information contact:  Kat Cunningham prez@moresource-inc.com
In August the USBLN BOD approved the addition of both the Arkansas (ARBLN) and the Arizona (AZBLN) BLNs.  Arkansas is partnered with the Department of Career Education, Rehabilitation Services Division and Arizona is sponsored by Untapped Arizona.  For information about these two very active networks please reach out to:
Now that the USBLN Conference is over, connecting locally with these BLNs is a way to take to the same type of around disability inclusion education and training from Orlando and spread it across your corporate footprint. BLNs are by business and for business networks that seek to connect you to a talent pipeline, local resources and give you an opportunity to share and learn best practices.
Below is the map of all the USBLN Affiliates for your reference.  If you are seeking more information or would like a personal introduction to a BLN or a set of BLNs please contact: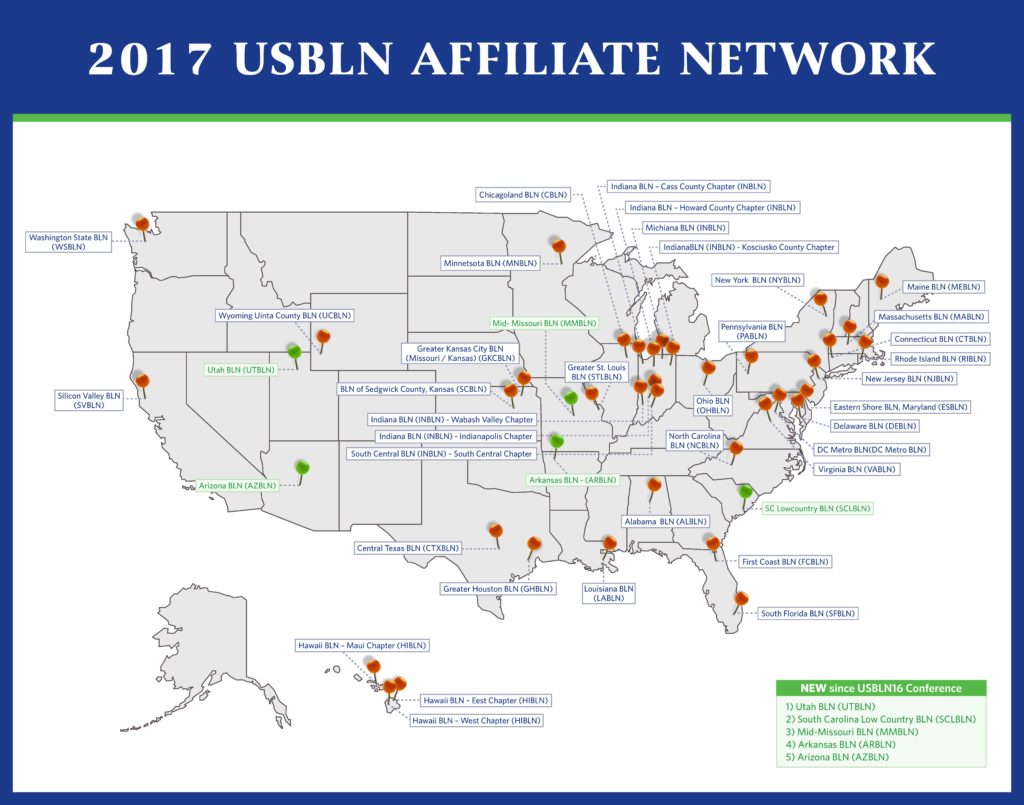 USBLN Statement on International Day of Persons with Disabilities
Written by Jill Houghton, President and CEO of USBLN Today we celebrate the International Day of Persons with Disabilities, that was first proclaimed in 1992 by the United Nations General Assembly. While much has been accomplished, more remains to be done to make the world truly inclusive. This year, the theme is "Transformation towards sustainable […]

---


Champions of Diversity by Diversity Plus Magazine
Each year Diversity Plus Magazine celebrates "Champions of Diversity." These are the people who have driven diversity in corporate supply chains and workforces.

---


USBLN Proudly Sponsors A Breakthrough Report On Disabilities And Inclusion From The Center for Talent Innovation
As many as 30% of full-time, college-educated professionals in the U.S. have a disability. That's the finding from a first-of-its-kind study published today by the Center for Talent Innovation (CTI), and sponsored by the USBLN.

---


IBM Wins Employer of the Year for People with Disabilities
IBM is the most recent recipient of the USBLN's Employer of the Year Award for its continued dedication to inclusion in the workplace. In a letter to its employees, Chief Diversity Officer shares the news, and reiterates the company's commitment to disability inclusiveness policies, strategies and initiatives.

---


DXC Technology, EY, Ford Motor Company, JP Morgan Chase & Co., Microsoft, and SAP launch the "Autism @ Work Employer Roundtable"
These cross-industry employers have led hiring initiatives specific to individuals on the Autism Spectrum for over a year, and recognize the significant benefits to their company cultures as well as those experienced by individuals hired at these companies.

---