October 3, 2016
Lessons learned from the Rising Leadership Academy
Guest blog: Joe Brown, recent Kenan-Flagler Business School, University of North Carolina graduate and active job seeker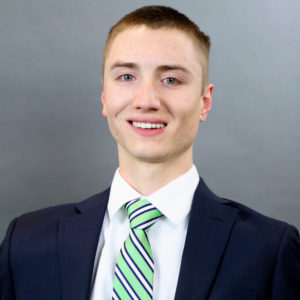 The central focus of the USBLN Conference in Orlando, Florida spanning the days of Sept. 19-22 was disability inclusiveness in the workplace. It was truly an amazing experience.

First, I want to talk about the breakout sessions. Although they were all great, two I particularly enjoyed were about enhancing your personal brand and creating communication strategies inclusive of disability.

Personal brand is critical with any disability, especially visible ones. I am personally in a power wheelchair. People see that, but they also need to realize I am much more than my disability. My personal brand is the fact that I am a normal person. I want the normal things in life, such as the personal and financial independence employment brings and will go to great extents to achieve that goal, hence the value in hiring individuals with disabilities.

I will be honest and say the communication strategies breakout session was not what I was expecting. I thought it was going to be about communication strategies to employees about other employees with disabilities. However, the focus was on external communication strategies instead of being internally focused. It was about the need to shift the perceptions of someone having a disability as something of normality. Start 'em young was the common idea in the room. Things like children's toys, such as Barbie and Legos and even advertising messages need to be inclusive of disabilities in today's world.

Of course, when talking about the conference, I can't forget one of the most important aspects, the networking. There were so many companies with representatives in attendance. It was awesome to see so many companies dedicated to disability inclusiveness in the workplace. There were plentiful opportunities to meet companies looking to increase their diversity by disability hiring. I myself met three major companies who showed exceptional interest in me as an employee. I have to give a shout out to the top-rated companies by the Disability Equality Index (DEI). Thank you for being front runners in this regard!

The opportunities I have received stemming from this conference are fantastic! I am highly encouraged and more motivated than ever to make my dream of obtaining employment a reality. I cannot thank the USBLN enough for not only teaching me about the entire process of working with a disability, but also teaching companies about the value of hiring employees with disabilities. I am confident the end result will be positive!

To all conference attendees, and especially to the Rising Leaders class of 2016, thank you for being a part of what was an unforgettable conference. I wish you all the best of luck in your future endeavors!

Joe Brown
The Tar Heel





"It is our abilities that count and not our disability"
The USBLN conference was the best conference I have ever attended in my entire life. I was so excited to meet new people, especially the rising leaders of 2016.

---


"I was in a room with 900+ people who all were interested in increasing their inclusion and diversity"
With a few days post-conference, to digest and process the events of the past five days. It really hit me what an amazing experience attending the USBLN's 19th Annual Conference was. The Rising Leader Academy was an incredible experience!

---


"Companies want to hire people with disabilities"
Guest blog: Robin Jenks Vanderlip, BA, MCBIET, MG, Rising Leadership Academy participant and George Washington University Fellow, Rehabilitation Counseling and Brain Injury Education

---


"I can unequivocally say that it has changed my life. I feel liberated."
The first time I got information on the USBLN Rising Leaders mentoring program I was on the verge of breaking down emotionally. I felt like there was nothing out there for me despite how hard I have worked to get to where I am. I will tell a little bit of my story in the hope that it motivates or inspires anyone that reads it.

---


USBLN Highlights Disability Inclusion with Leadership Awards at Annual Conference
USBLN Highlights Disability Inclusion with Leadership Awards at Annual Conference Winners include EY, AT&T, PNC and Wells Fargo The US Business Leadership Network (USBLN) presented top awards on Sept. 21 during the annual conference Leadership Awards in Orlando, Fla. Recognition was given to four companies, three individuals and an affiliate network for their outstanding commitment […]

---