September 28, 2016
"I can unequivocally say that it has changed my life. I feel liberated."
Guest blog: Chidera Oku, a graduate student, majoring in public health with a concentration in health promotion and disease prevention, and a 2016 Rising Leadership Academy participant.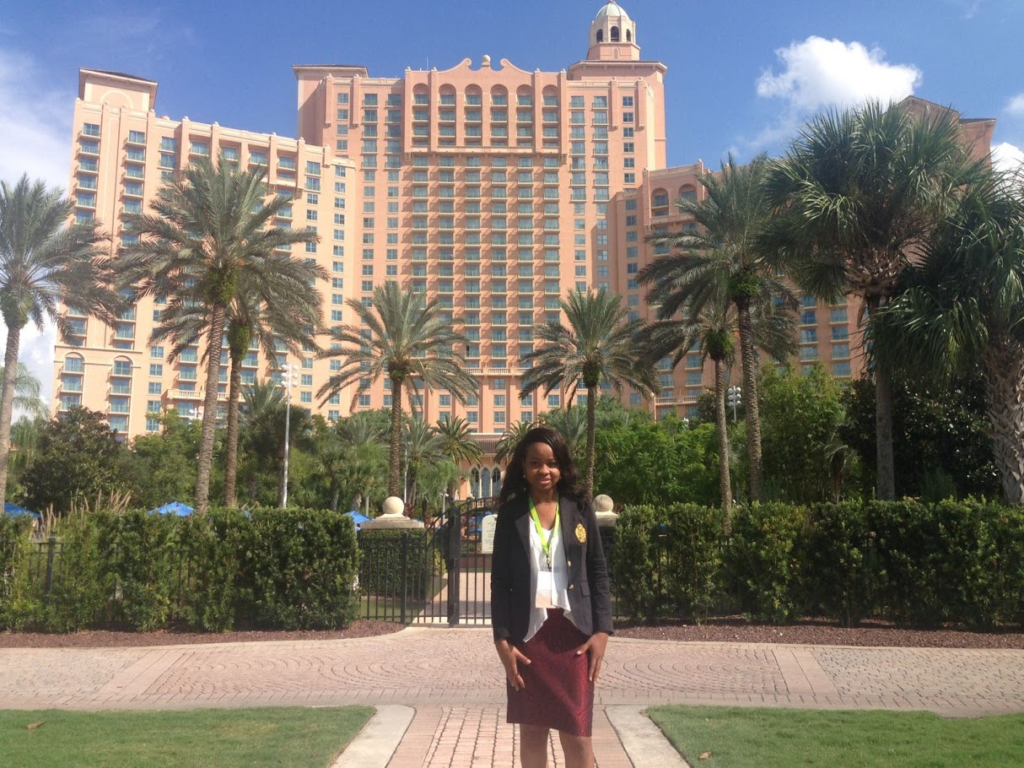 The first time I got information on the USBLN Rising Leaders mentoring program I was on the verge of breaking down emotionally. I felt like there was nothing out there for me despite how hard I have worked to get to where I am. I will tell a little bit of my story in the hope that it motivates or inspires anyone that reads it.

I come from one of the developing nations, and at 11 years of age, losing my hearing was like a blow on my face. I cannot count the number of times I contemplated suicide. I prayed and fasted and asked God to take away this disability from me. He did not. My family, although supporting me did not accept that aspect of me. They tried all within their ability to conceal it. You see, where I come from, based on my own personal experience, the deaf were part of the minority. They did not get to be able to effectively integrate into part of the larger community. I lived my life never truly accepting who I was, and looking back now, I do not think I lived a very effective life.

I remember my mother's friend advising her not to bother sending me to school, because I would not be able to find a job. That means my future is just to get married off to someone who will "take care" of me for the rest of my life. That advice alone hurt my mother so much that she made a decision that she will live to see me go through school just to prove others wrong. I did not come from a very affluent family, and I lost my dad 2 years after I lost my hearing, but my mom worked hard, deprived herself comfort just to make sure I got the highest education possible. I was completing my third semester in college, and I knew I was not getting to where I wanted to in life, and that was when I found the flier advertising the USBLN Rising Leader mentoring program.

Academically, I do ok. I know how to read and understand subject matters, but in terms of extra curriculum activities, I was lacking woefully. Ms. Mylene was easy to communicate with; she linked me up with my mentor, Ms. Autumn Anderson who helped encourage me to do more. She was not in the health field but she advised me that since I wanted to work in a health care facility or a laboratory that I should try to be in contact with one as much as I can. This led to me volunteering at a hospital close to where I stay. Every single time I talked with her, I was encouraged and motivated. I prepared and came to the USBLN event, and I can unequivocally say that it has changed my life. I feel liberated.

At the USBLN event, I learned not only how to navigate myself professionally, but also how to embrace my disability. Some of the things I learned brought tears to my eyes. I felt liberated. I felt empowered. I felt hope once again in my life. I also met so many wonderful people who despite their busy schedule still made time to reply to my messages and still keep in touch with me. I met so many recruiters who actively seek out people with disabilities to integrate into their organizations. I was really impressed, because as I strongly believe, when you have a disability, your other senses get even stronger to make up for what you cannot do. Geniuses are usually those who have one form of disability or another.

As I waited for the bus after the USBLN event to convey me to the airport, I quickly composed a post for Facebook. For the first time in my life, I owned up to my disability and told my story with hope that it will inspire and motivate others to never see their disability as an obstacle.

Thank you USBLN for this awesome opportunity. I am forever grateful.





"It is our abilities that count and not our disability"
The USBLN conference was the best conference I have ever attended in my entire life. I was so excited to meet new people, especially the rising leaders of 2016.

---


Lessons learned from the Rising Leadership Academy
Guest blog: Joe Brown, recent Kenan-Flagler Business School, University of North Carolina graduate and active job seeker The central focus of the USBLN Conference in Orlando, Florida spanning the days of Sept. 19-22 was disability inclusiveness in the workplace. It was truly an amazing experience. First, I want to talk about the breakout sessions. Although they were […]

---


"I was in a room with 900+ people who all were interested in increasing their inclusion and diversity"
With a few days post-conference, to digest and process the events of the past five days. It really hit me what an amazing experience attending the USBLN's 19th Annual Conference was. The Rising Leader Academy was an incredible experience!

---


"Companies want to hire people with disabilities"
Guest blog: Robin Jenks Vanderlip, BA, MCBIET, MG, Rising Leadership Academy participant and George Washington University Fellow, Rehabilitation Counseling and Brain Injury Education

---


USBLN Highlights Disability Inclusion with Leadership Awards at Annual Conference
USBLN Highlights Disability Inclusion with Leadership Awards at Annual Conference Winners include EY, AT&T, PNC and Wells Fargo The US Business Leadership Network (USBLN) presented top awards on Sept. 21 during the annual conference Leadership Awards in Orlando, Fla. Recognition was given to four companies, three individuals and an affiliate network for their outstanding commitment […]

---